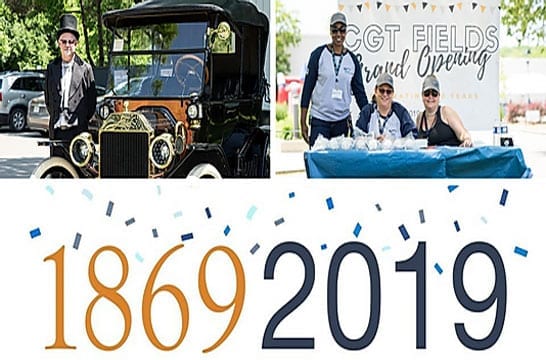 Top 5 Highlights from CGT's 150th Year
We had quite the year. As our 150th anniversary year draws to an end, we wanted to look back and reflect on this momentous year for CGT by highlighting some of our major accomplishments.
Joint Research With McGill:
In May, we completed the first phase of our joint research project with McGill University to develop the next generation of biodegradable green plasticizers for industrial applications. As a leader in global sustainability through smart product development and design, we were honoured to collaborate with the university's MITACS Research and Innovation program to conduct scale-up trials to qualify the industry's new plasticizers.
CGT Fields Grand Opening:
This past June, we unveiled CGT Fields, the newly-restored ball yard in the Cambridge community. We called on our CGT and Cambridge community to dust off their baseball caps and bring their family and friends to celebrate the opening of the beautifully restored outdoor recreational park, which was months in the making. We had a great turnout and it was so special to share this grand opening in the community we call home.
Attending Concours d'Elegance of America:
CGT was honoured to attend the 41st annual Concours d'Elegance of America back in July to celebrate the art of the automobile and our esteemed customer base, as well as to showcase its success as a pioneer in the automotive industry. As the manufacturer of the Model T's convertible tops, we were proud to feature an original 1914 Ford Model T. Not only we were able to showcase the car that put the world on wheels, but also a 2020 Lincoln to demonstrate our longstanding history in this industry. It was a great opportunity to show how far our technology has come as one of the few suppliers around for 150 years.
France Acquisition:
For CGT, August marked the acquisition of two France-based companies: Alkor Draka Industries and Alkor Medical Tubing, specialists in the formulation of plastic films. By acquiring the assets and retaining the employees of both companies, we reached a major milestone in our global growth strategy on whole. Now CGT Alkor and CGT Medical, this acquisition provided us with a highly strategic base of operations in Europe, as well as North America and China.
Employee Scholarship Program:
This year, we awarded eleven deserving recipients with CGT's Annual Employee Scholarship Program. As one of Canada's oldest manufacturing companies, we credit much of our success over the past 150 years to our workforce. To date, our Employee Scholarship Program has funded approximately $112,000 towards the successful futures of the next generation on a global scale. We strongly believe in the importance of creating a workforce for the future and will continue to assist our employees and their dependents in helping them reach their future goals and dreams.
We extend our thanks to our current and past employees, supply partners and global customers who we were fortunate enough to share this incredible milestone with. We are looking forward to creating another 150 years of history. To stay up-to-date with CGT, follow us on Facebook, Twitter and Instagram!