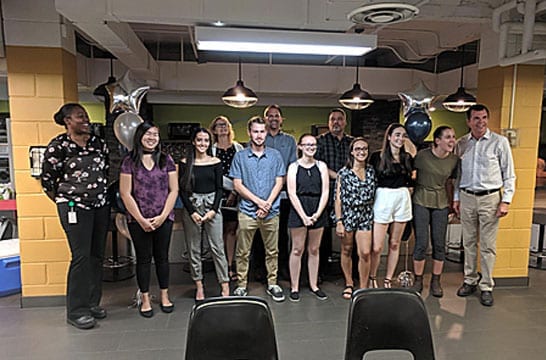 6th Annual Employee Scholarship Program: The results are in!
The month of August wraps up the 6th Annual Employee Scholarship Program at CGT, an initiative that we are proud to offer to our valued employees and their children. Created to assist future generations in furthering their education at the post-secondary level, the CGT Scholarship Program has supported 56 students since the Program began in 2014.
In June 2019, CGT employees with dependent children were encouraged to apply to this year's Program. Scholarships are awarded based on the student's academic record, extracurricular activities, letters of reference and an essay. Every year, we make it a priority to align the essay question with our goals and values at CGT — so it's no surprise that this year's question focused on our 150th anniversary!
Our incredible Scholarship Program Committee worked throughout the month of July to review Program applications with a rigorous scoring system in order to determine this year's recipients. After careful and thoughtful consideration, we are proud to announce that 11 candidates were awarded a one-time scholarship of $2,000 to further their education.
The successful candidates of our Scholarship Program were awarded their scholarships at our awards ceremony on August 14, 2019. The names of the 2019 scholarship recipients are as follows: Alaina Hansen, Sierra Ventura, Brandon Nutt, Bryce Hunt-Parker, Erin Meinzinger, Julia deJong, Sarah Fitzgerald, Vivian Hartman, Mackenzie Medina, Rachel Raymond and Kailey Turner.
CGT's 6th Annual Scholarship Program Recipients.
In keeping with our commitment to invest in the future of our employees, we are excited to continue offering the Annual Employee Scholarship Program for years to come. And who knows, perhaps we will see future applicants and past recipients joining our team at CGT in the future!​
This year we are celebrating 150 years of success — and if you ask us what our most valuable asset is, it's our people. Our Scholarship Program is just one of the ways we proudly support our incredible, global team of 1,200 employees.
Be sure to stay in touch with CGT by following us on Facebook, Twitter and Instagram — and keep checking back for all of our exciting 150th anniversary events here!