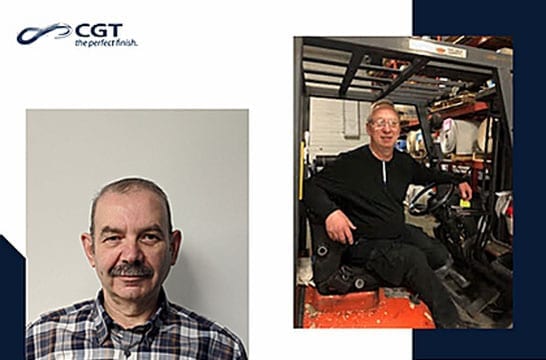 CGT Celebrates Long-Standing Employees
Meet Emanuel Ausch and Willy Vanderwelle, two long-standing employees at Canadian General Tower (CGT) at the Cambridge location. To celebrate 150 years of CGT's operation, Emanuel and Willy sat down with us to discuss their favourite memories over the years and how CGT has helped make them who they are today. Thanks to the incredible commitment and efforts of tenured employees, CGT is able to celebrate this milestone.
Emanuel Ausch, currently a Senior Technical Specialist for CGT's Research and Development Department, has been with CGT for 23 years. During his tenure at CGT, Emanuel has held a variety of positions including Management and Technical roles.
Willy Vanderwelle, Material Handler for CGT, has been with the company since he was fresh out of high school — 44 years ago! A typical day for Willy involves transporting, loading and unloading materials and ensuring supplies are placed on correct racks. He's held a variety of roles over the course of his career, including Calendar Operator, Laminator, Pass Coder and now Material Handler.
Favourite Memories
For Emanuel, his time in both the automotive and industrial departments has been memorable. Highlights include seeing his product in "cool" cars, like the PT Cruiser, and in movie theatres, as CGT supplies the base material for cinema screens. He also recalls CGT's extensive renovation and modernization of the office, which gave him the opportunity to design the technical, development and quality control labs still used today.
"There's nothing like seeing your designs come to life," says Emanuel.
Of all the memories Willy has from his time at CGT, he cherishes the relationships he's built the most. Only 19 years old on his first day, Willy grew up at CGT. He shared many life experiences with his colleagues, like getting married and starting families. The respect Willy has for his coworkers is unparalleled; he thinks of them as family and learned a great deal from them.
Role Models
Working with 600 people over a 44-year timespan makes it difficult to choose one notable mentor; Willy is honoured to have worked with so many great people. It is rare to work over 40 years at one company, which can be attributed to the family-oriented work environment CGT has built.
It was former VP Technical, David Smith, who was a role model for Emanuel.
"David introduced me to the wonderful and challenging world of the automotive industry, which was new to me," said Emanuel. "I learned a lot from him. He was a very knowledgeable man."
Lessons Learned
CGT also encourages professional growth. Due to his role at CGT, Emanuel specialized in geo-synthetics and became an expert in his field, assisting in the creation of new global standards. Working with the Standard Council of Canada, he collaborated with different countries to form a common denominator for standards across the world.
"I'm proud to see CGT, a Canadian company, growing, thriving and innovating across the world," says Emanuel.
Willy notes his time at CGT also gave him a strong appreciation for respecting others.
"I strongly believe that respect is something earned and deserved," says Willy. "Live by the golden rule – treat others the way you want to be treated."
Words of Wisdom
Willy urges everyone at CGT to take advantage of their time, to build relationships and seek ways to better both themselves, and others, in the process. After a great journey, he's looking forward to retiring in two years.
A special thank you to Emanuel and Willy for sharing their stories. We are so fortunate to have a global team of hardworking and dedicated employees who make CGT a great place to build – and finish – a career.
This year we are celebrating 150 years of manufacturing leadership — making us one of the country's oldest companies in the industry. Stay in touch with CGT by following us on Facebook, Twitter and Instagram — and be sure to check back for all of our exciting 150th anniversary events here!
About Canadian General-Tower Ltd.:
Canadian General-Tower (CGT) is a leading global provider of coated fabric and film products. Founded in 1869 in Ontario, Canada, CGT employs a diverse team of 1,400+ talented individuals across four continents. Originally manufacturing wagon wheels and axe handles, the company now produces a vast range of innovative building products, automotive solutions, and pool liner materials for diverse global markets. The company is celebrating its 150th anniversary in 2019 and is commemorating its long-standing success as one of Canada's oldest privately-held companies through a series of milestone events, open houses, and community initiatives.
Website: http://www.cgtower.com/
Facebook: @cgt
Instagram: @cgt_the_perfect_finish
LinkedIn: cgt-the perfect finish
For media inquiries, please contact:
Alicia Baertsoen
519-360-8388
alicia@durrellcomm.com