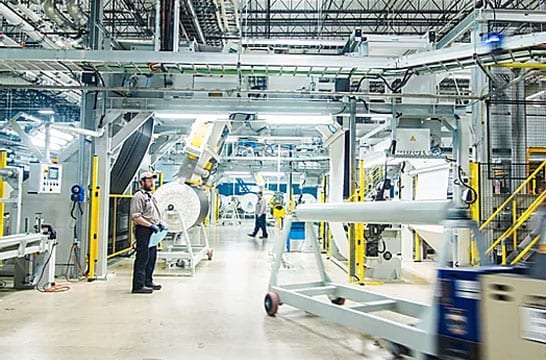 Creating a Workforce for the Future: Leading Students Towards the Trades
At CGT, we are constantly advocating for the future of the manufacturing labour force in Canada and beyond. We believe that as a leader in Canadian manufacturing, we have a duty to encourage future generations to pursue technical training for careers in manufacturing and the trades.
Today, the increasingly fast pace of technological change means that the training we provide our students must evolve just as quickly to fill the high tech, high skill manufacturing jobs of the future.
According to the Human Resources Professionals Association's (HRPA) "Strengthening Ontario's Workforce for the Jobs of Tomorrow," report, it is estimated that close to 250,000 skilled tradespeople will retire over the next 10 years in Canada. Meaning that by result, recruitment of students into the skilled trades will be crucial. (HRPA, 2019). The skilled trades, however, remains one area of Ontario's workforce that struggles to attract workers, regardless of its constant demand.
So, how can we create a workforce for the future?
Debunking Myths and Misconceptions.
Debunking common misconceptions surrounding the industry is necessary. Everyone can play a part in strengthening efforts to recognize the economic outlook for students that plan to enter the skilled trades down the road.
Labour Market Knowledge.
Students preparing for their futures need to base their post-secondary decisions on accurate labour market research. Understanding the growth or decline of different industries can significantly benefit students during their decision making process and guide them in the right direction. This knowledge of the labour markets can then contribute towards pairing the needs of businesses with skills students learn.
Future Skill Degree Programs.
Employers in the manufacturing sector have the opportunity to work closely with high schools, colleges, universities, apprenticeships and graduate recruitment programs to help develop degree programs that meet the skills of the future. Investing in these programs will ensure that graduates have the skills necessary to succeed.
Prepare Current Workers.
Employers cannot simply wait for the workforce of tomorrow to arrive. To stay ahead, it is necessary to train and prepare current workers for the upcoming shifts in industry. We must be realistic about the fact that existing roles will evolve, transform or disappear altogether. Development of new skill sets is a necessity.
The government, educators, and industries should all play a part in directing students towards the careers that will be the ones to create and sustain a strong workforce for the future.
So, how can you get involved?
As a leading Canadian manufacturer, we take pride in knowing that we are positively impacting jobs, livelihoods and the economy when we come to work every day. When you join our community at CGT, you will be driven to perform meaningful work. We strive to create a culture that facilitates the sharing of collective ideas, skills and knowledge — our employees are our greatest asset!
For over a century, we have invested in talented people who are dedicated to implementing the highest levels of technology and innovation. To explore job opportunities at CGT Cambridge, check out our list of openings below:
Job Opportunities at CGT Cambridge
EHS Coordinator
Production Operator
Colour Technician
Facilities Engineer
Production Supervisor
This year we are celebrating 150 years of manufacturing leadership — making us one of the country's oldest companies in the industry. To mark this important milestone, we are organizing a series of events, open houses, and community initiatives throughout the year. Stay in touch with CGT by following us on Facebook, Twitter and Instagram — and be sure to check back for all of our exciting 150th anniversary events here!
Source:
HRPA, "Strengthening Ontario's Workforce for the Jobs of Tomorrow," 2019.
To read more of HRPA's report, click here.
Hyper Link: https://hrpa.s3.amazonaws.com/uploads/2020/10/Strengthening-Ontarios-Workforce-for-the-Jobs-of-Tomorrow.pdf