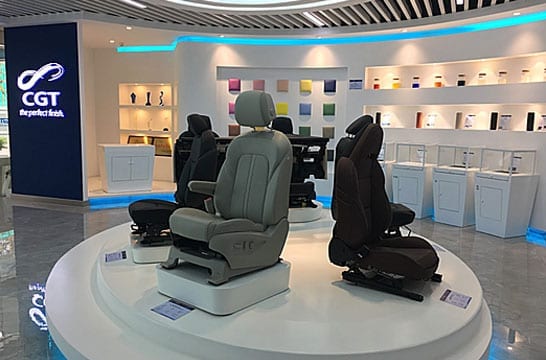 Canadian General-Tower Celebrates One-Year Anniversary of Global Innovation Centre
Leading Canadian manufacturer is driving industry advancement as it celebrates one-year anniversary of Global Innovation Centre
CAMBRIDGE, ONTARIO | November 26, 2019 – Canadian General-Tower (CGT), a leading global provider of coated fabric and film products, celebrates the first anniversary of its state-of-the-art Global Innovation Centre (GIC) located in Changshu, China. Not only is CGT celebrating 150 years of innovative history, it is also celebrating its commitment to future advancement. The GIC has launched more than 10 innovative products welcomed by many well-known Original Equipment Manufacturers (OEM), with product functionalization and intelligentization at the forefront.
To meet the future challenges of the automotive industry, CGT has invested just under $2 million to accelerate its transformation from a traditional coverstock manufacturer to high-tech solution provider. In just one year, over 20 research projects, including fundamental mechanism study, advanced chemistry research and innovative product development, have been successfully completed. Notable progress has been made in improving product property through the study of the raw materials. The analysis and optimization of several key technical issues, such as yellowing of laminated PVC and films for automotive interior surfaces, odor and VOC problems, has also been a focus.
"We're excited to be simultaneously celebrating both our 150-year milestone leading the manufacturing industry and our first year of successful operation at the Global Innovation Centre," says Craig Richardson, CEO. "Not only does this demonstrate our commitment to our past, our people and making good things last; it shows we can honour our history while committing to the future of CGT, and the manufacturing industry on the whole."
The GIC was awarded the title of Jiangsu Enterprise Technology Center and Jiangsu Engineering Technology Center in the past year, made possible by its highly qualified researchers and the Centre's commitment to innovation. By partnering with Chinese and Canadian universities, the GIC is developing future leaders in the industry. CGT leadership and Global Innovation Centre researchers are looking forward to their continued growth and driving manufacturing forward worldwide.
To learn more about CGT's 150th anniversary celebrations, please visit www.cgtower.com.
About Canadian General-Tower Ltd.:
Canadian General-Tower (CGT) is a leading global provider of coated fabric and film products. Founded in 1869 in Ontario, Canada, CGT employs a diverse team of 1,200+ talented individuals across four continents. Originally manufacturing wagon wheels and axe handles, the company now produces a vast range of innovative building products, automotive solutions, and pool liner materials for diverse global markets. The company is celebrating its 150th anniversary in 2019 and is commemorating its long-standing success as one of Canada's oldest privately-held companies through a series of milestone events, open houses, and community initiatives.
Website: http://www.cgtower.com/
Facebook: @cgt
Instagram: @cgt_the_perfect_finish
LinkedIn: cgt-the perfect finish
For media inquiries, please contact:
Alicia Baertsoen
519-360-8388
alicia@durrellcomm.com